Your Fast Pass to a

better job
Find teams made for you using filters as picky as you are.
First times are not always the best
But you won't be our first one.
Recruitment can be

a jungle
We Tarzan.
My Little Team works hard to be the #1 trusted recruitment platform. We help you find like-minded teams where you will feel good, all day, all long.
Choose your

communities
Based on your background, your values, and your aspirations.
A large choice of communities

There is something for all tastes and all colors!

Personalized career advice

Get advice tailored to your profile.

Brilliant unifiers at the helm

Communities are managed by renowned unifiers.
Find your

future jobs.
By connecting with recruiters or applying for dedicated offers.
A teamlicious selection

We make every effort to select teams with great cultures, values, and work styles.

Filters that make sense

Filter the job offers like never before: values, management style...

Candidate care that will make you purr

Before, during, and after all your jobs.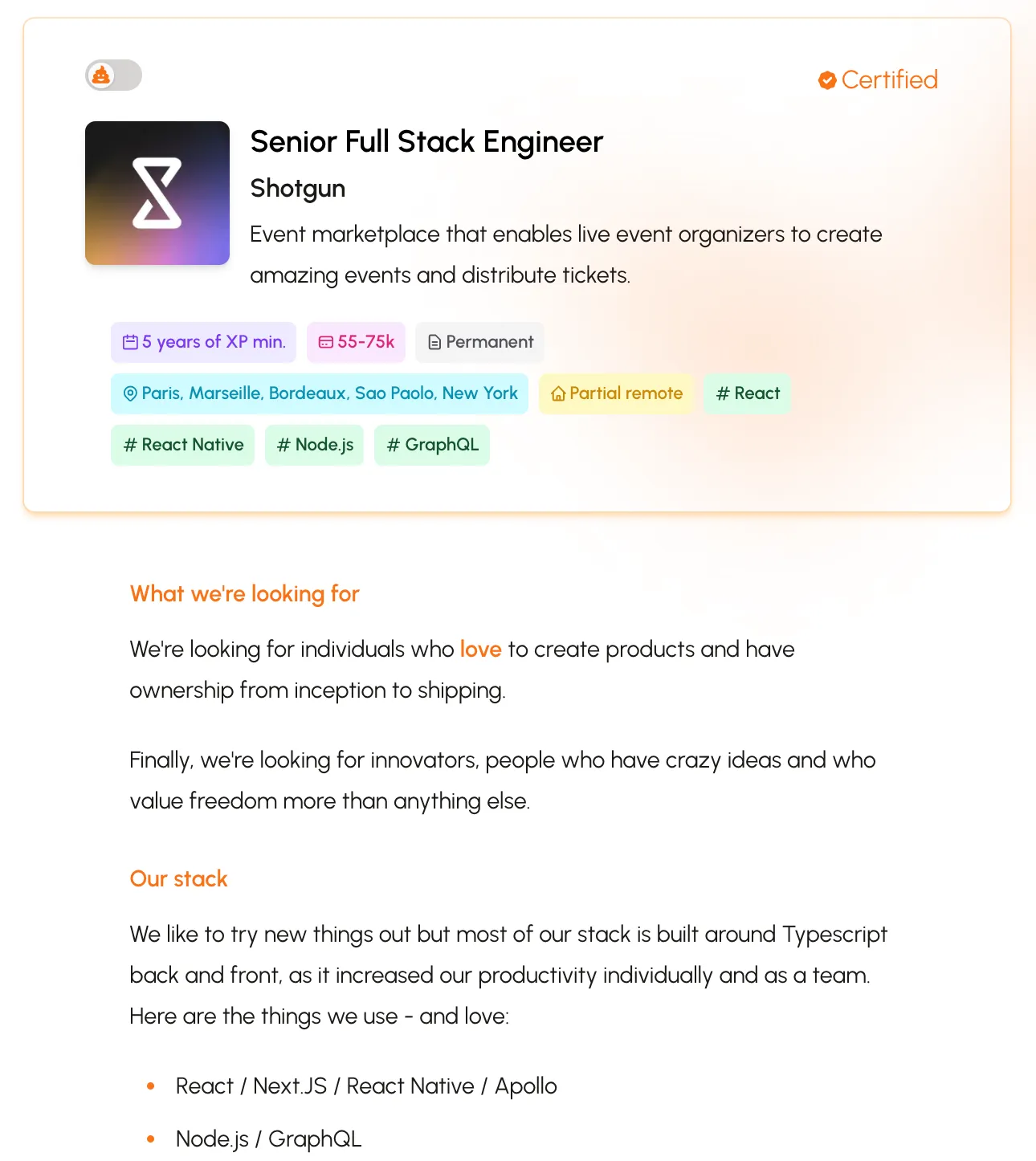 Loved

by candidates!
The rumors are true: candidates love the way we do recruitment.
I'm already in❤️ at registration: "Are you actively looking for a team" (yes a team, not necessarily a company), "What are the 2 most important values for you among the following?"

Caroline Senes

Frontend developer @Altran

They have an interesting recruitment approach with sorting criteria that I find really makes sense. I hope this more human way of doing things will become the norm. Can't wait to see the sequel!

Julien Marseille

Ruby developer @squadracer

They're just starting out but I REALLY ✨like✨ the way @MyLittleTeam is trying to change #hiring. Filtering by values instead of skills, things that do matter to more and more people. And trying to do it at team level, instead of company level as well. Really hope they succeed!

Julien Lengrand-Lambert

Dev. Advocate @AdyenDevs
What's the FAQ?!
If like us, you take know for an answer, you may be interested in the following Frequently Asked Questions.
Is it free to join the platform?
Our platform is free for candidates. You just need to create a profile to take advantage of all the recruitment features.
How can I contact you?
You can contact us on Twitter @mylittleteam.fr → or Telegram here →, wherever you feel most comfortable.
How are my personal data managed?
We treat your personal data like we would like ours to be treated, with utmost care and respect. Learn more →